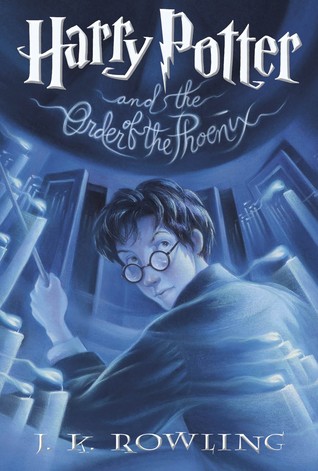 Harry Potter is due to start his fifth year at Hogwarts School of Witchcraft and Wizardry. His best friends Ron and Hermione have been very secretive all summer and he is desperate to get back to school and find out what has been going on. However, what Harry discovers is far more devastating than he could ever have expected…
Suspense, secrets and thrilling action from the pen of J.K. Rowling ensure an electrifying adventure that is impossible to put down.
Goodreads | Barnes & Noble | Amazon | Book Depository
As you may know, while reading the first four books of the series, I was not impressed. Although I understood how someone could get wrapped up in the world, I did not understand the hype surrounding the Harry Potter books. My problem with the first few books was that it felt too repetitive and they were a little boring, if I'm honest. Now with book number five, we're diving into the dangers and slipping away from Hogwarts a little more. This one has completely upped my interest and I was beyond pleased with it. So what better way to share my thoughts than a list?
Pro: As I said, we're starting to slip away from Hogwarts in this one, where we learn about a couple new places. This is exciting! There's more to this world than Hogwarts, Hogsmeade, and Privet Drive, after all!
Con: While I did enjoy Grimmauld's Place,  there's a good chunk of the beginning of the book where the characters are simply cleaning. I know there's something important we had to note during that time, but that could have been done within just a few paragraphs.

Pro: Like usual, we're introduced to a couple new characters and I must say, I love Luna so much. I've heard about her a lot before reading the series and I wasn't sure what her role was, but I was always interested in learning who she was and I'm not disappointed in her weird, quirky self. I'm glad she'll be in the next book as well.
Con: I'm sure we can all agree when I say Umbridge drove me up the wall, right?

Pro: I've grown such a soft spot for Professor McGonagall and Neville alike.
Another pro: Fred and George, my dear troublemakers! I'm happy for them. They're finally getting to do what they've wanted for such a long time, though I feel that they won't have as much a role as they did anymore… but yay for them!!

Yet another pro: Still on the subject of characters, I'm so happy that we're getting more of Ginny and we're able to see more of her personality! She seems so cool and fun. Though, I've heard from many people that she's not as great in the movies which is so disappointing.
One more pro: LOCKHART! I remember saying in my review for the second book that I hope there was a point to his plotline. I was so surprised to see that he was brought back!! It actually impressed me, to be quite honest, because I hadn't been expecting a follow-up and/or explanation.

Con: Can we just talk about the injustice in this book? I don't even know where to begin, honestly.
Last con: Note that this book is the biggest of them all, which I hadn't been expecting and after reading, I kind of wish it had been even longer. I feel there was a lot of stuff that could have been excluded or cut down so the ending could have been more fleshed out. It felt more rushed than anything, and more of a Dumbledore info dump to much of my disappointment.
This was, so far, my favorite book in the series and definitely the one where I've become much more attached to the characters. Now I want to fly through the last two books, but I also want to savour what little time I have left with them. Do you see my dilemma?!
---
Do you share any opinions with me? Thanks for reading!