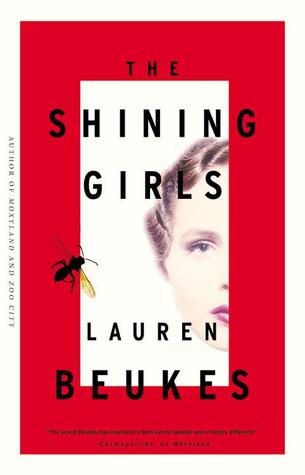 The Girl Who Wouldn't Die Hunts the Killer Who Shouldn't Exist
The future is not as loud as war, but it is relentless. It has a terrible fury all its own.
Harper Curtis is a killer who stepped out of the past. Kirby Mazrachi is the girl who was never meant to have a future.
Kirby is the last shining girl, one of the bright young women, burning with potential, whose lives Harper is destined to snuff out after he stumbles on a House in Depression-era Chicago that opens on to other times.
At the urging of the House, Harper inserts himself into the lives of the shining girls, waiting for the perfect moment to strike. He's the ultimate hunter, vanishing into another time after each murder, untraceable-until one of his victims survives.
Determined to bring her would-be killer to justice, Kirby joins the Chicago Sun-Times to work with the ex-homicide reporter, Dan Velasquez, who covered her case. Soon Kirby finds herself closing in on the impossible truth . . .
The Shining Girls is a masterful twist on the serial killer tale: a violent quantum leap featuring a memorable and appealing heroine in pursuit of a deadly criminal.
Goodreads | Barnes & Noble | Amazon | Book Depository
When I first heard the premise of this book, I was so so interested. A time-traveling killer? Come on. You can't tell me that's not interesting… IF it's done right, I must say. This book has greatly disappointed me. Let me explain why in, of course, a list-fashion-way.
Why are they "The Shining Girls"? Basically, these girls are chosen by the lives they lead and the significance of their existence. Though if I'm honest, as I read, I didn't notice much of a significance.
The antagonist had no motive. I know there are some books where there is no motive, I KNOW. But our antagonist, Harper, killed only from gut-based instincts from what it seems and I just would have preferred reason.
The time travel was confusing. If you're new to reading time travel, as was I, then I would not suggest this one to be your introduction. There's a house that Harper uses to travel through time to kill these women, but it doesn't alter anything from the past or in the future aside from Kirby, our protagonist, who survives.
Lack of character development. I really did like Kirby's personality, but I feel she is the same after the attempted murder as she was before it. As well as there was no visible character development during the events we're reading.
I was bored. When it came to Harper's chapters, I often put the book down and dreaded to continue. I suppose his point of view was essential to get his plotline across, but I would rather have read the whole book in Kirby's perspective.
Unnecessary romance. My regular readers, by now, should know that I don't like it. Between Kirby and a sports journalist, Dan, whom she is interning for, blooms a romance. Much like most books now, authors just throw in a romance for their readers' interest. I felt that it didn't improve the plot any more than it would have if they had been/stayed friends.
WARNING: there are graphic murders, including a dog scene.
Now you might think that I strongly disliked this book, but you're wrong. I think it was an extremely interesting concept that had a lot of potential. The problems I have listed above didn't completely affect my overall opinion and I closed the book at least slightly satisfied. It isn't one of my favorites, but I think it definitely deserves a reread some time in the future to fully comprehend its events, if not to just enjoy.
---
If you read or have read The Shining Girls, I would love to hear your thoughts. Thanks for reading! Also, if you guys could let me know if you like it this way or if you would rather have me include the book's pages/publish date/genres/etc, that would be great!