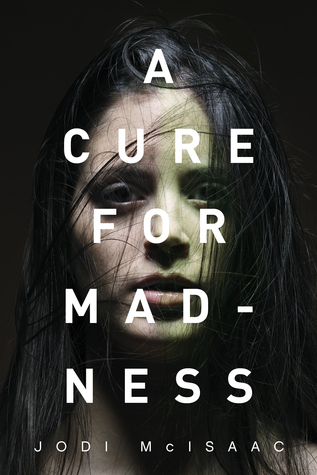 A Cure for Madness by Jodi McIsaac
Series: No
Published: January 19th 2016 by Thomas & Mercer
Pages: 299pg.
Format: e-ARC / Source: Netgalley
Genres: Fiction, Thriller, Suspense
Goodreads synopsis:
Clare Campbell has worked hard to create distance between herself and her troubled family. But when she receives news of her parents' murder, she's forced to return to the quiet town of Clarkeston, Maine, to arrange their funeral and take legal guardianship of her unpredictable and mentally ill brother, Wes.
While Clare struggles to come to grips with the death of her parents, a terrifying pathogen outbreak overtakes the town. She is all too familiar with the resulting symptoms, which resemble those of her brother's schizophrenia: hallucinations, paranoia, and bizarre, even violent, behavior. Before long, the government steps in—and one agent takes a special interest in Wes. Clare must make a horrifying decision: save her brother or save the world.
*I was provided an eARC via Netgalley in exchange for an honest review.
Diving into a book, it's rare to know straight away if I'm going to enjoy it. Usually it takes me a few ten pages until I become interested. This one wasn't any different. In fact, it took me longer than usual to get along with it. We had a roller coaster relationship while I was reading, to say the least.
Particularly the protagonist, Clare, was the reason I had such a hard time getting on with the book. I found her whiny and self-centered. Also, the way she'd treated her brother's situation before and after returning to her home town was not okay. Her brother, Wes, has schizophrenia and was being released from the psychiatric ward just a day after their parents were killed. That left Clare to be his legal guardian, a title she did not want to take on, but otherwise had no choice. After the funeral and after she had gotten him all settled in to his new apartment, she was going to do what she does best: runaway. Until there was an outbreak of a new disease within their town.
The plot has so much potential, but I feel like it was missing that certain oomph. In just under three hundred pages, I was worried about how all of the conflict would be resolved and while it had been, I was still left unsatisfied. The ending was rushed and left me rather confused. There was a moment where I was like, "Whoa, what just happened?" Along with the worry of such short length, there wasn't much character development. I started to really enjoy that Clare was beginning to show how much she actually cared about Wes, but it was most toward the end and therefore, didn't feel complete. And lastly, the romance… It was so unnecessary, in my opinion. I feel it was there just for the sake of being there and it didn't even last very long. I see the point of that character, but his plot line would have gotten accomplished just fine without the romance as well.
So to wrap up, there was many problems I had with this book despite my enjoyment. If you're looking for a well-developed plot and characters, this is not one for you!
---
Have you read this book yet? What would you do if you were in Clare's place? Thanks for reading!