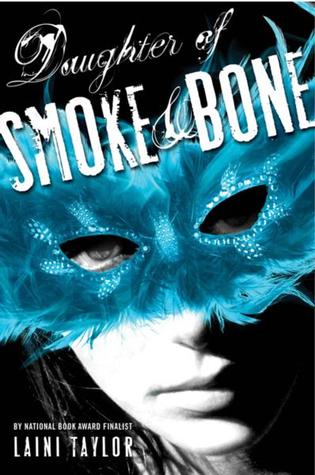 Daughter of Smoke and Bone by Laini Taylor
Series: Daughter of Smoke and Bone #1
Published: September 27th 2011 by Little, Brown Books for Young Readers
Pages: 418pg.
Format: Hardcover / Source: Owned
Genres: Young adult, Fantasy, Paranormal, Romance
Goodreads synopsis:
Around the world, black handprints are appearing on doorways, scorched there by winged strangers who have crept through a slit in the sky.
In a dark and dusty shop, a devil's supply of human teeth grows dangerously low.
And in the tangled lanes of Prague, a young art student is about to be caught up in a brutal otherwordly war.
Meet Karou. She fills her sketchbooks with monsters that may or may not be real, she's prone to disappearing on mysterious "errands", she speaks many languages – not all of them human – and her bright blue hair actually grows out of her head that color. Who is she? That is the question that haunts her, and she's about to find out.
When beautiful, haunted Akiva fixes fiery eyes on her in an alley in Marrakesh, the result is blood and starlight, secrets unveiled, and a star-crossed love whose roots drink deep of a violent past. But will Karou live to regret learning the truth about herself?
I have no excuse for waiting this long to read this book when I got it for Christmas of 2014. I also have no excuse for waiting this long to post the review (precisely a month after reading it). I do, however, know that it's not quite an easy read. Jumping into this book, I had no idea what to expect; I knew it was hyped and tons of people liked it, but I actually bought it and was interested in it because of the title (it's intriguing, let me tell ya) and the cover (it's very eye catching).
She had been innocent once, a little girl playing with feathers on the floor of a devil's lair. She wasn't innocent now, but she didn't know what to do about it. This was her life: magic and shame and secrets and teeth and a deep, nagging hollow at the center of herself where something was most certainly missing."
In my opinion, the pace was quite slow and I also found some parts boring. Though, that didn't cause me to lose interest when it comes to the plot with it's twists and turns. Also, Daughter of Smoke and Bone is full of interesting characters and that completely makes up for it as well. First you have Karou, a blue-haired beauty that's snarky and knows how to fight. Then you have Brimstone, a creature whom raised Karou and has her running (odd) errands for him. My personal favorite from that little family is Issa, who seems like she'd be an amazing aunt, to be honest. Then we have Zuzana, Karou's best friend and forever tiny, vicious cupcake who makes marionettes! Also tons of other great characters who you'll have to read to learn about, because telling this to you is not enough.
It is a condition of monsters that they do not perceive themselves as such. The dragon, you know, hunkered in the village devouring maidens, heard the townsfolk cry 'Monster!' and looked behind him."
After reading this, I had a hard time putting my thoughts into words (hence the late review). Despite the parts I found boring, it's purely the ending that makes me want to continue on with the series. It's an epic cliffhanger and leaves you with questions that need to be answered. In all honesty, I seen it coming, but it was still a shock to me. I can't wait to jump into the second book to see what happens next!
---
Have you read Daughter of Smoke and Bone? What did you think? As always, thanks for reading!