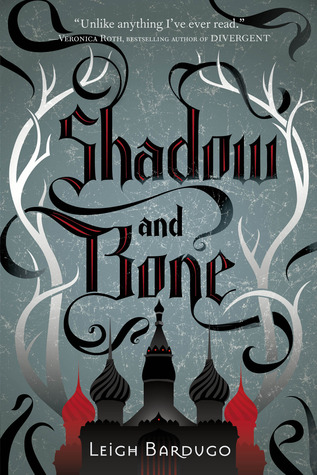 Shadow and Bone by Leigh Bardugo
Series: The Grisha #1
Published: June 5th 2012 by Henry Holt and Co.
Pages: 368pg.
Format: Softcover / Source: Owned
Genres: Young adult, Fantasy, Adventure
Goodreads synopsis:
Surrounded by enemies, the once-great nation of Ravka has been torn in two by the Shadow Fold, a swath of near impenetrable darkness crawling with monsters who feast on human flesh. Now its fate may rest on the shoulders of one lonely refugee.
Alina Starkov has never been good at anything. But when her regiment is attacked on the Fold and her best friend is brutally injured, Alina reveals a dormant power that saves his life—a power that could be the key to setting her war-ravaged country free. Wrenched from everything she knows, Alina is whisked away to the royal court to be trained as a member of the Grisha, the magical elite led by the mysterious Darkling.
Yet nothing in this lavish world is what it seems. With darkness looming and an entire kingdom depending on her untamed power, Alina will have to confront the secrets of the Grisha . . . and the secrets of her heart.
In Shadow and Bone, we enter a world made of powers and secrets and overall, impressive characters. Our protagonist, Alina Starkov, is revealed to something within her that she never knew she had. We're taken along with her as she learns the Grisha ways and how it's not as pleasant as she might have once thought.
In all honesty, it's truly just another fantasy story where the main character has powers they never knew they had and they have to go about learning how to use them. It might be eyeroll-worthy for some, but that doesn't make it a bad book. To be honest with you, I didn't really grasp what the actual plot was of the entire book… Was it defeating the Darkling after finding out his secret? Was it learning her power and running with it? Was it saving Mal? Again, not like that makes it a bad book and I'm not saying it was all over the place, but I feel like the mission of the plot wasn't complete. Probably that's because it's the first in a trilogy and maybe that continues into the second book, but as I said.
I genuinely enjoyed Alina; I love how she hadn't just acquired her ability as easily as she had been thrown into that whole new society. She had to work for it and you're shown how she struggles in the beginning which makes her more human than anything. Also, unlike a lot of other books, she'd lacked self-confidence but also had those moments where she had to stop and say, "Whoa, am I really that beautiful?" It's those little things that I love about a well-developed character so kudos to Bardugo!
Let's talk about Mal for a second. I hadn't liked him very well in the beginning, the way he had kind of dismissed Alina. That's not how you treat a friend that you grew up with!! But, as the story moved on and we eventually got to see more of him, I've came to kind of adore him. It's always the bruised little pumpkins in the story that I love so much and his big head is definitely one of them. Not to mention, I love how much he and Alina love each other.
Genya!! Genya, Genya, Genya! My pretty princess full of sass. The ending had left me confused, but no matter what it meant, I love her so much! If she were a real human being that I could talk to and all, my mission in life would be to become her best friend because. 😍
And lastly, the Darkling. It took me a few minutes to warm up to him, but after that, I wanted more of him. Every time he wasn't around, I was wondering when he was gonna show up again. I was basically Alina (which, isn't that always how books are, though?). Until my heart got stomped all over and crushed when, like Alina, I felt betrayed.
There's one thing I didn't quite understand about the Grisha world. What exactly is the Shadow Fold? Because all I could picture was a big dark space separating the lands, apparently filled with sand? And like a deck, or something, that moves across? It was so confusing and not very descriptive. If someone could explain that to me, that would be great.
I feel like I say, "I didn't think I was going to like this as much as I did," in every single review, but it's true. It's a popular series and I've been meaning to read it for over a year now, but I tend not to like popular books (like Eleanor & Park, for example, and Red Queen). So I think that's why I held it off for so long, but now I feel ultimately angry at myself for not reading it sooner, because… I didn't think I was going to like this book as much as I did. 😉 Anyway, onto the next one as soon as I can get my hands on it!
---
Thanks for reading! What are your thoughts on this book? Is it one of your favorites?