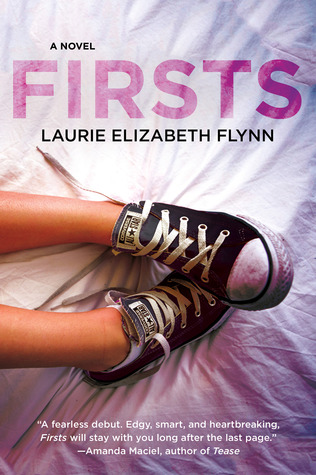 Firsts by Laurie Elizabeth Flynn
Series: No
Published: Expected January 5th 2016 by St. Martin's Griffin
Pages: 320pg.
Format: e-ARC / Source: Netgalley
Genres: Young adult, Contemporary
Goodreads synopsis:
Seventeen-year-old Mercedes Ayres has an open-door policy when it comes to her bedroom, but only if the guy fulfills a specific criteria: he has to be a virgin. Mercedes lets the boys get their awkward, fumbling first times over with, and all she asks in return is that they give their girlfriends the perfect first time- the kind Mercedes never had herself.
Keeping what goes on in her bedroom a secret has been easy- so far. Her absentee mother isn't home nearly enough to know about Mercedes' extracurricular activities, and her uber-religious best friend, Angela, won't even say the word "sex" until she gets married. But Mercedes doesn't bank on Angela's boyfriend finding out about her services and wanting a turn- or on Zach, who likes her for who she is instead of what she can do in bed.
When Mercedes' perfect system falls apart, she has to find a way to salvage her reputation and figure out where her heart really belongs in the process. Funny, smart, and true-to-life, FIRSTS is a one-of-a-kind young adult novel about growing up.
*I was provided an eARC by St. Martin's Griffin via Netgalley in exchange for an honest review.
Firsts follows a girl named Mercedes who, unlike her own experience, wants some girls in her school to have their perfect first time. To achieve that, she teaches virgins what a girl may like. Until a little bump in her process ruins everything and digs up secrets from the past where she has to face more truths than one.
I'll admit, going into this I was a bit skeptical. One: because it's a contemporary. And two: because it's pretty much almost about a teenage sex addict. Though, I will say that another genre this book should be listed under is realistic fiction. Then again, aren't most contemporaries? There are many situations in this book that I can relate to or see many others relate to. That's what makes it much more personal. I also think that is what made me rate it at four, almost five stars.
I don't have any set feelings or opinions on Mercedes. I'm gonna be honest… all the relationships in this book, I found annoying. Her relationship with Zach was frustrating and I couldn't see the point of her attraction toward Faye? I understand what it was getting across, but it kind of felt pointless to me. I think the point could have gotten across without the attraction and confusion completely. But despite how annoying the relationships were to me, they also felt honest… in the least contradicting way lol.
As I said, I hadn't expected to like this book as much as I had because of reasons stated above, but I was more than slightly satisfied with how it ended so kudos to Laurie Elizabeth Flynn. The endings never satisfy me so it seems. I would recommend this one to those who want to dapple in NA but aren't quite fully ready yet.
---