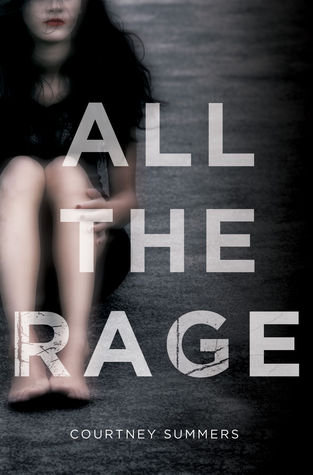 All The Rage by Courtney Summers
Series: No
Published: April 14th 2015 by St. Martin's Griffith (first published April 1st 2015)
Pages: 321pg.
Format: Hardcover / Source: Borrowed
Genres: Young Adult, Realistic fiction, Contemporary, Mystery
Goodreads synopsis:
The sheriff's son, Kellan Turner, is not the golden boy everyone thinks he is, and Romy Grey knows that for a fact. Because no one wants to believe a girl from the wrong side of town, the truth about him has cost her everything—friends, family, and her community. Branded a liar and bullied relentlessly by a group of kids she used to hang out with, Romy's only refuge is the diner where she works outside of town. No one knows her name or her past there; she can finally be anonymous. But when a girl with ties to both Romy and Kellan goes missing after a party, and news of him assaulting another girl in a town close by gets out, Romy must decide whether she wants to fight or carry the burden of knowing more girls could get hurt if she doesn't speak up. Nobody believed her the first time—and they certainly won't now — but the cost of her silence might be more than she can bear.
With a shocking conclusion and writing that will absolutely knock you out,All the Rage examines the shame and silence inflicted upon young women after an act of sexual violence, forcing us to ask ourselves: In a culture that refuses to protect its young girls, how can they survive?
All The Rage is about a girl that's trying to cope after being raped. We're taken through the motions of dealing with the aftermath and how it affected her. We're shown through her eyes what the world looks like after something so tragic. It's a honest, heartbreaking story about a girl that feels like she's lost everything because of that one moment.
The plot of this book was played out beautifully. I've thankfully never had this experience, so I can't say how accurate her experience was… but it was enough to let me ride along with her feelings. I was a little confused at first because I wasn't sure if she'd been raped in previous events before the book started, or if it was the kind of book that tells you, from the future, about the events. There was not much I didn't like about this book, to say the least.
Like I said, although I've never had this experience, I still connected with Romy in so many ways and for this, it was easy for me to sympathize with her. There was, of course, times where I'd been slightly annoyed with her but isn't there always something that annoys you about anyone?? I liked Leon. I felt for him things I probably shouldn't have and definitely wouldn't have expected. I also wish we could have seen more of his sister. I adored Romy's relationship with her mom as well. In the most simplest way, Summers did a good job of making me like the characters that should have been liked and, well, not like the ones we shouldn't have.
I closed this book not knowing how to feel. While reading this, I felt emotions ranging from sadness to warmth to anger. It was a wild ride and I hadn't been expecting to like it as much as I did (I feel like I say this in every review, though…. BUT I'M NOT LYING OK). This was one of the very few books I've read that I didn't really expect what was coming, to be honest. It's not an easy, light read. For me, it was a fast one, but that's just because I couldn't put the book down. It's one I'm glad to finally have picked up and will definitely be put on my shelves eventually.
---