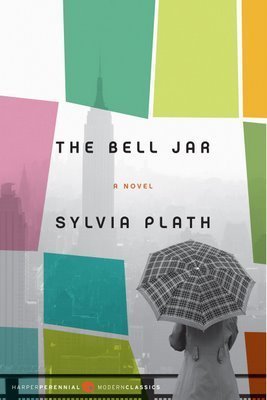 The Bell Jar by Sylvia Plath
Series: No
Published: October 17th 2006 by Harper Perennial Modern Classics (first published 1963)
Pages: 288pg.
Format: Hardcover / Source: Borrowed
Genres: Fiction, Classics, Mental Health, Feminism
Goodreads synopsis:
Sylvia Plath's shocking, realistic, and intensely emotional novel about a woman falling into the grip of insanity.
Esther Greenwood is brilliant, beautiful, enormously talented, and successful, but slowly going under—maybe for the last time. In her acclaimed and enduring masterwork, Sylvia Plath brilliantly draws the reader into Esther's breakdown with such intensity that her insanity becomes palpably real, even rational—as accessible an experience as going to the movies. A deep penetration into the darkest and most harrowing corners of the human psyche, The Bell Jar is an extraordinary accomplishment and a haunting American classic.

Note: this is will not be my usual review format.
This classic follows a girl named Esther Greenwood, very similar to Plath herself, as she spirals down into a state of suicidal depression. We're taken along through her journey and watching helplessly as she goes from a trip to New York and lands in a hospital to receive treatment. It's not an easy read. It's not light. It's not enjoyable in a pleasuring way. It is heart breaking and emotionally draining. For many, it pulls you in so far you don't know how to get out. It's the scary, raw truth of what a mental illness can do to you.
Although it's fictional, it's also semi-autobiographical the way I see it… So, how do you judge an autobiography? Everybody can have an opinion and no opinion is right or wrong, but when it comes to something that is so close to the real truth, no opinion really matters in the end. I don't have much to say about the concept of this story, apart from what I've previously said in the section above. I will say, though, that it's scary how much I see myself in this story. While I wasn't completely hooked like some people, I have related to The Bell Jar in so many ways. After reading it, I spent the next three days not knowing what to rate it and reflecting on my thoughts and ultimately feeling kind of numb with realization. Even now it's hard to admit how much Esther's story, not in events but in the sense of mental health, is so close to mine.
The silence depressed me. It wasn't the silence of silence. It was my own silence.
There are many ways to interpret that quote. For me it means keeping things inside and not seeking help. The worst thing one can do when in the state of depression or any mental illness is to keep quiet and try dealing with it on your own. In Esther's case, it was the growing start of her unhappiness. When her only friend during her visit in New York had went off with some guy, it left her feeling alone and like no one was there for her.
How did I know that someday–at college, in Europe, somewhere, anywhere–the bell jar, with its stifling distortions, wouldn't descend again?
Because wherever I sat–on the deck of a ship or at a street café in Paris or Bangkok–I would be sitting under the same glass bell jar, stewing in my own sour air.
These two quotes fundamentally speak the same meaning to me in different ways. I believe the way I interpret it, is how Esther meant it. They're both a startling realization. In her mind, the bell jar resembles the mental illness and once she's received help and is let free to go on with her life, that first quote is when she questions if she'll descend into that downward spiral again. The second quote is her realizing that no matter where she is, how much time has passed, what has happened since her time in the hospital, the bell jar is still with her. A mental illness is something that never really goes away. Then you're left praying you'll never get that low again.
In the end, this was a hard review for me to write because as I reflected more deeply on the meaning behind this book, the more I realized that Esther had spoken so many of my own thoughts. I've learned so much from reading this, one of them being that you can be happy and still be depressed, which is terrifying. I had originally rated this book a 3.5 stars, but after writing this review, I realized it deserves much more than that. Though it's not a pleasant read and it took me so much time to get through, it made so much more of an impact on me than I had realized and therefore earned a spot on my favorites shelf. I highly recommend this to anyone who feels alone in the matter of mental illness, because I promise you, you are not alone. If you're thinking about ending your life, please talk to someone because I promise you, you are not alone and no matter what you think, there IS someone who cares. Even if it's someone on the internet who's half way across the globe.
You're not alone.
---