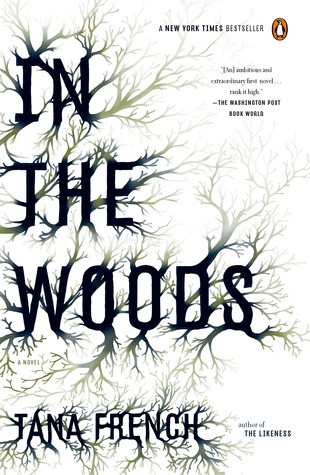 In The Woods by Tana French
Series: Dublin Murder Squad #1
Published: May 17th 2007 by Viking (First published January 1st 2007)
Pages: 429pg.
Format: Hardcover / Source: Borrowed
Genres: Adult fiction, Mystery thriller, Crime, Suspense
Goodreads synopsis:
A gorgeously written novel that marks the debut of an astonishing new voice in psychological suspense.
As dusk approaches a small Dublin suburb in the summer of 1984, mothers begin to call their children home. But on this warm evening, three children do not return from the dark and silent woods. When the police arrive, they find only one of the children. He is gripping a tree trunk in terror, wearing blood-filled sneakers and unable to recall a single detail of the previous hours.
Twenty years later, the found boy, Rob Ryan, is a detective on the Dublin Murder Squad and keeps his past a secret. But when a 12-year-old girl is found murdered in the same woods, he and Detective Cassie Maddox (his partner and closest friend) find themselves investigating a case chillingly similar to the previous unsolved mystery. Now, with only snippets of long-buried memories to guide him, Ryan has the chance to uncover both the mystery of the case before him and that of his own shadowy past.
In The Woods is the first book in a mystery thriller series that's set in Dublin, Ireland. It follows Detective Ryan who, one day, receives a case on a murdered twelve-year-old girl in the infamous woods where he'd spent the majority of his childhood with his two best friends who had disappeared in those same woods. While he unravels the mysteries of the case, we're taken through the motion along with Ryan as he not only works on this case, but tries to discover if it ties in with 1984 case that left him with little to no memories.
This story felt, to me, slightly slow-paced but more so action packed. It's not a light read. After all, it's about a detective trying to solve the case of a murdered young girl. Though, that's not the only reason it's harder to read. It involves a lot of thinking and in my opinion, opens your eyes to a whole new perspective. There's a lot that happens in this book that's not directly pointed out or explained, but I think that's what makes it so much more… interesting? Tana French leaves it at many open interpretations, not only at the end, but all throughout the book. She's done such a great job at hinting many things and kind of twisting your mind to slightly confuse you into wondering which is reality and which is an illusion. It's done in the most subtle way, I think, to where it's just enough to play with your mind. Perhaps that's not Tana's writing's doing at all and more so our unreliable narrator. This book has some small parts throughout that actually creeped me out, particularly between pages 281-283. I must say, that part had been kind of disorienting to me, in the way of switching reality and illusions as I previously mentioned. The only thing that bothered me about this book, though, is I felt like there were plot holes? Don't take my word for it, though, I may have just missed it. As I said, it involves a lot of thinking and events aren't exactly explained, so it's very easy to miss something if you haven't caught on to what's not being said. (Highlight for spoilers). However, I'm highly disappointed that we never truly found out what happened to his friends. Of course, as I said, he's an unreliable character. There's a specific line he says somewhere in he end where he straight out reminds you that he'd said in the beginning, he lies. Then there's the scene where the worker hands him an arrowhead stone. That hadn't been included for nothing. Plus, when Ryan was found that day in 1984, his shoes were soaked with blood that was not his. Of course it crossed my mind more than once while reading, but the ending was open to interpretation and we're never directly told what may or may not have happened in that wood. And it highly disappoints me that there's not a chance it's discovered or included in any of the other books in the series.
I've already mentioned that Detective Ryan is an unreliable narrator, which to be honest, I'm not sure if that would be considered a spoiler or not because it's not clear until the end of the book. So I'm sorry if I spoiled that for you. I don't have much to say about him. After reading the end, my opinions are kind of mixed and unclear about him now. All I can really say is that I don't feel bad for him. Though, I did love his friendship with Cassie, I must say. You all should know by now how much I love friendships and theirs felt so natural. Tana did a wonderful job with them, slipping in gestures they might not even realize they're doing because it's just so usual for them, even when they're suppose to be professional. All their interactions had slowly been building up to my need for them to be together. (Highlight for spoilers.) After Ryan had started being an ass and not talking to Cassie, you can just see how they slowly drifted apart and it had my heart aching for them. In the end, though, I feel like their friendship wasn't finished if that makes sense. You can see that months have passed and they just haven't talked to each other in that long, but it felt like Cassie hadn't fought for him, which she shouldn't have had to if Ryan was going to continue to act the way he did. But you know he loved her just as much as she loved him and I wanted so badly for them to just make up and confess to each other. By the end, I was shipping them so hard and damn, does Tana French know how to ruin a person. "I never know, not then, not now, whether Cassie thought she had hung up, or whether she wanted to hurt me, or whether she wanted to give me one last gift, one last night listening to her breathe." Whyyyyy Tana?!
In my time that I've grown to love reading so much, I've also found my love for mystery-thriller-crimes and this one did not disappoint. Although I had those small little negatives about this book, they weren't enough to make me like the book any less. I'm glad I took my time with reading this or I might not have had the same opinion a week ago as I do now since I had some time to let the events of the book sink in. It's definitely one that I would read again, if only to get more of the facts straight and a better grip on things I may have missed or got confused. This one, I feel, is going to live with me for quite some time and I don't have a problem with that (only I do, because it's made me very emotional if I'm honest). This was the first book I've read of Tana's and I'm happy I'd finally picked it up.
---
If you've read this book, please come discuss it with me because I have so many emotions right now. If you haven't, and you think this is one you'd like, I highly suggest this be your next read. Thanks for reading!