Hey! This week's topic for t5w wasn't very fitting for me so I decided to go back in time and pick a different topic. I picked "top 5 friends groups I'd want to be a part of" which is much more relevant to me. You may or may not know, but I've learned that I am much more affected by friendship than I am romance. If there's a strong bond of friendship in a book, I'm all about it. Whether it's between only two people or a whole group of friends. If something goes wrong with that friendship, don't doubt that I'm crying hysterically (on the inside — possibly a couple of physical tears at most). And it's not easy to make me cry if I'm honest.
Anyway, let's get on with it! This meme was created by Lainey at GingerReadsLainey on Youtube. You can find the Goodreads group here.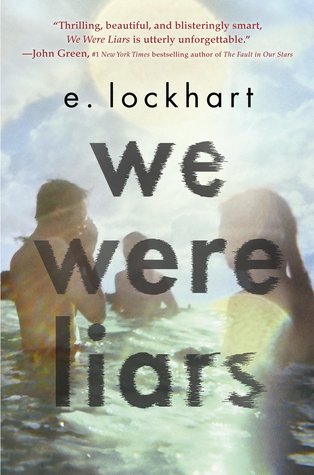 5. Cady, Gat, Mirren, and Johnny from We Were Liars. Unfortunately I couldn't find any fan art to post, so I just had to go with the book cover. Despite the way the story ended, I still would love to be a part of that friends group. Not only their friendship, but that lake house? Yes please, sounds like a blast!
4. Miles (Pudge), Chip, Alaska, Takumi, and Lana from Looking for Alaska. They're a pretty cool group, let's be real. Miles has a hobby(?) of memorizing people's last words. Alaska is a bookworm. Chip is humorous. Takumi is basically the coolest to ever cool. And Lana is cute. They're all just fucking great.
3. Darcy and Imogen from Afterworlds. Obviously I had to include these two. They're both writers and I've always dreamed of just having someone there as I write or read, or whatever. They could be in complete comfortable silence going on about their business, all the while helping each other out when needed. I won't lie, I wasn't a fan of Darcy's character, but Imogen was a badass and I was completely crushing on her. Not only their friendship though, but with the rest of the writing/publishing community that's included in this book. I can only dream.
2. Harry, Ron, and Hermoine from Harry Potter. This is self-explanatory and most likely predictable. I'd only just started reading the Harry Potter books recently, but I'm already digging their friendship in its entirety. Not only are they wizards, but Ron's cute and funny, Hermoine's another fellow bookworm, and Harry is… well, Harry. It's an epic friendship and it would be amazing to be a part of it.
1. Blue, Gansey, Ronan, Adam, and Noah from The Raven Cycle. Bet you weren't expecting that, huh? It's not surprising that these guys are at the top of my list. From the beginning, I've always been intrigued by Blue's personality and Gansey's unique individuality and Ronan completely and their concern/love for Adam. Then we have Noah… my love for Noah is continuing to grow with every passing day. My heart is forever crying because I will never meet these people, let alone be friends with them. That alone is enough to ruin me for the rest of my life. I'm not being dramatic, you know.
Now I have two honorary mentions:
1. Charlie, Sam, Patrick (and the others) from The Perks of Being a Wallflower. I've only watched the movie so I'm not sure how similar they are to the book characters. This movie is the one that made me ultimately fall in love with Ezra Miller. I wasn't a big fan of Charlie, but his friendship with Sam and Patrick is too hard not to love. Sam and Patrick are some damn awesome people. I love how they care for Charlie. And let's not forget about their other friends that they introduce Charlie to. Just give me their friendship and the whole shebang and I'll be content for the rest of my life.
2. Maddie and Queenie from Code Name Verity. Now I was hesitant to include this in my top 5, so that's why it's just an honorary mention. I was hesitant because their friendship is too precious to butt into. Their bond is too strong to squeeze in another. As I said in my review, their friendship had left me heart broken. It will haunt me for as long as I live. Their friendship is so memorable, I want to cry just thinking about it. So that being said, I wouldn't so much as want to butt into their friendship as much as I'd want to have a friendship like theirs.
---
(All pictures are linked to credit.) So there you have it. This was such an emotional post, why are friendships so great? I'm gonna go cry now since I can't have these people as my friends. That's so depressing to think about.
Are you as big of a fan of friendships as I am? What are some friendships you'd want to be a part of? Are there any suggestions you have for me to check out?
Have a great day,
Ember ♥