Hi guys! Sorry for my inactivity these last few days, I've been a little busy.
I had a baby shower to plan for all weekend that happened on Sunday — unfortunately not many people showed up, but it was still nice!
August has ended so expect a wrap up coming soon!
I've finally got Photoshop so I'm in the process of making graphics to pretty up my blog and posts
During my absence, I finished one of the books I'd been reading, so today I bring you a review!! 🙂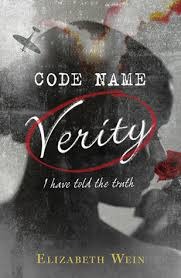 Title: Code Name Verity
Author: Elizabeth Wein
Pages: 441 pages
Genre: YA, Historical fiction, War
Publisher: Egmont Press, February 6th 2012
I have two weeks. You'll shoot me at the end no matter what I do.

That's what you do to enemy agents. It's what we do to enemy agents. But I look at all the dark and twisted roads ahead and cooperation is the easy way out. Possibly the only way out for a girl caught red-handed doing dirty work like mine – and I will do anything, anything to avoid SS-Hauptsturmführer von Linden interrogating me again.
He has said that I can have as much paper as I need. All I have to do is cough up everything I can remember about the British War Effort. And I'm going to. But the story of how I came to be here starts with my friend Maddie. She is the pilot who flew me into France – an Allied Invasion of Two.

We are a sensational team.

Review:
Code Name Verity is a historical fiction that takes place during World War II. It's told in the POV of the two main characters as one is held captive being forced to make a confession. This book is slow paced as well as filled with friendship and adventure and emotion.
Final thoughts:
To be entirely honest, it felt like it took me forever to even get through the first fifty pages. I almost put the book down for good until another time, but I pushed through and man, am I sure glad I did. This is a slow paced book and I'm not very patient with those, but after those first fifty pages, I really started to become invested. I'd become attached to the characters over the course of the story, causing me a broken heart in the end. It's definitely one of those books that leave you feeling drained afterward and needs some time to sink in before gathering your thoughts (and picking up the pieces of your heart). This is one of those books that will stick with haunt me. The story, the characters, everything about this. It's heart-wrenching. There are no words to explain how much this story affected me. And here I thought for a while about putting this down…

Rating:
Plot: 4/5
Characters: 5/5
Writing: 5/5
Overall rating: 5/5
---
And to leave you with the particular line that describes my feelings most accurately:
"But a part of me lies buried in lace and roses on a riverbank in France-a part of me is broken off forever. A part of me will be unflyable, stuck in the climb."
---
Have a great day,
Ember ♥