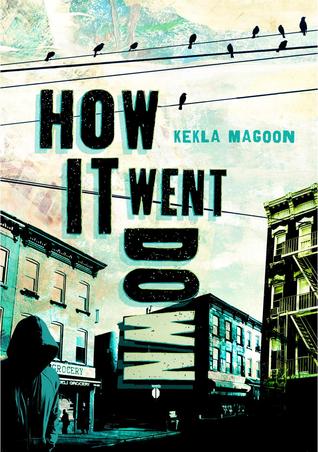 Title: How It Went Down
Author: Kekla Magoon
Pages: 326 pages
Genre: YA, Realistic fiction, Cultural, Crime
Publisher: Henry Holt and Co., October 21st 2014
A 2015 Coretta Scott King Author Honor Book
When sixteen-year-old Tariq Johnson dies from two gunshot wounds, his community is thrown into an uproar. Tariq was black. The shooter, Jack Franklin, is white.
In the aftermath of Tariq's death, everyone has something to say, but no two accounts of the events line up. Day by day, new twists further obscure the truth.
Tariq's friends, family, and community struggle to make sense of the tragedy, and to cope with the hole left behind when a life is cut short. In their own words, they grapple for a way to say with certainty: This is how it went down.

Final Thoughts:
Looking at the cover and reading the first chapter, I was reminded of Trayvon Martin. I don't know much about that situation apart from rumours and I don't know whether this was based on it or not, but I feel it was very similar. It was told in multiple POVs and because of that, in my opinion, it was hard to sympathize with them. For the most part, the characters had their own voice, though there was two or three that was hard to tell who was who. Although Tariq dies at the beginning, we're told plenty of things about him that I feel like I had enough information to get an idea on what kind of person he was. It's a fast read and I really enjoyed the ending. I've barely heard anything about this book before reading it and going into it with no expectations had been refreshing. The biggest reason I picked it up is because it deals with racism and that's an important topic.
Rating:
Plot – 4/5
Characters – 3.5/5
Writing – 4/5
Overall rating – 3/5
Have you read this book? What were your thoughts? Thanks for reading!
Have a great day,
Ember ♥